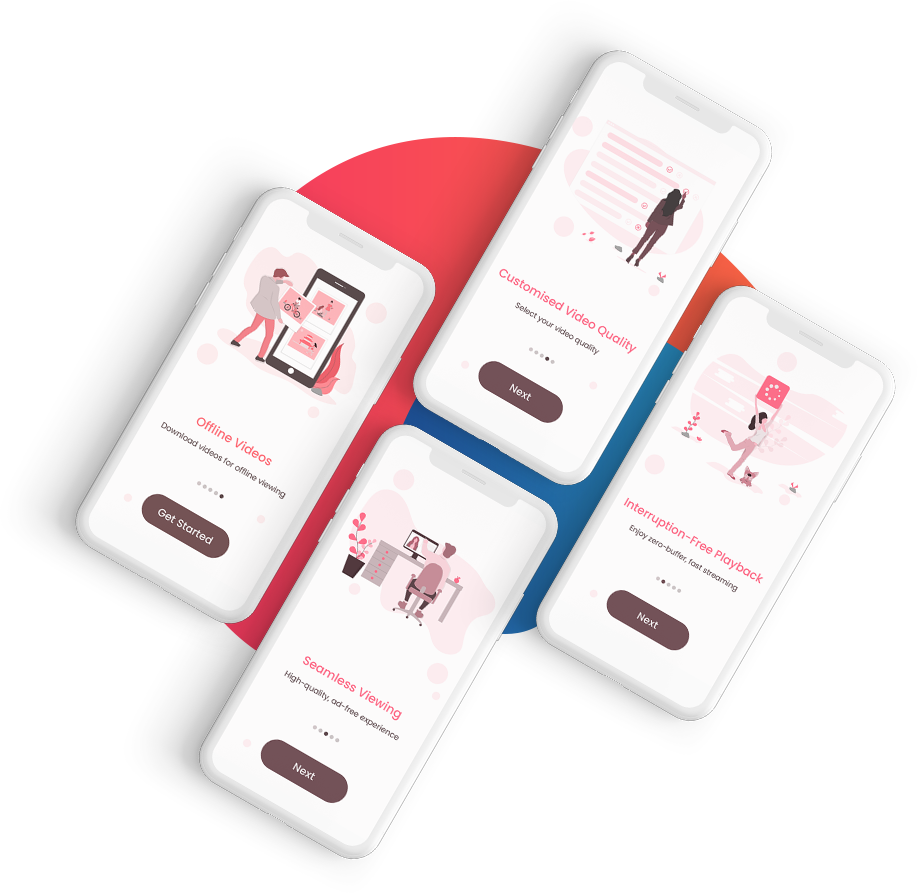 Application Development
With Ease
Your search for the finest mobile app development ends here. We do Mobile App Development with Flutter, React Native and Ionic ReactJs.
Discover
Web Application Development
Take Tour
We have years of experience in building Web Applications. We understand what user needs. Work with us, we build using all cutting edge and modern technologies following the industry best practices.
Discover
Software Development
Our Offerings
Lets build together. Software development is easy with us. Try us for - Mobile App, Web App, Desktop App, Api Development, Software Testing and Maintenance
Discover
GLANCE OF OUR SERVICES AND SOLUTIONS
Our Offerings
Get your ideas coded with us. We start from scratch and take it to success. We have a charismatic IT solution to every need of yours. Our entire team is here to work with you, or else, pick a team player as per your requirement
Application Development
We stand-out because we keep in pace with all the cutting edge technologies. We spark with expertise in multiple industries.
Hire Dedicated Developers
We have a vast pool of talented software developers with rich experience who excel in their domains.

Mobile Applications
Our expertise ranges from native development in Objective C to Cross platform application development. Connect with us for React Native development or Ionic/React Development

Internet of Things
IOT holds the future, and we persist with the latest technology. We are here to help you with the most optimized solutions to all your thread of ideas.

Cloud Comupting
Our IT Architects are well experienced in managing your cloud infrastructure. We provide a veritable consulting to reap the maximum performance out of your existing resources and help reduce your cost significantly

Business Intelligence
We aspire to connect with you to discuss more on your Data Analytics needs and other personnel requirements.

IT DOES MATTER
Why ConQsys
We boast to be the one of the finest software development company in Delhi NCR Noida. We have many reasons but following are somethings that matter a lot for any new company approaching for a new idea to bring in the market
Focus
Dedication
Commitment
Quality
HOW WE WORK
Our Approach for Development
Technical Debt Analysis
Lets ensure what technology solves your problem

Devops Planning
Set the goals and define the best practices

Attack
Lets develop using agile, deliver the goals.

PROGRAMMING LANGUAGES AND FRAMEWORKS
Cutting edge and Modern
we have everything in our bag
Web Services
NodeJs
Asp.Net Core
Django
RoR
Web Apps
Angular
React Js
Vue
Desktop Apps
Electron
.Net Core UWP

Mobile Apps
React Native
Flutter
iOS Native
Android Native
Recent list of clients
We value our clients

more than anything
TAKE A LOOK
Our Recent Solutions

Delivered with Passion
SUMMARIZING CONQSYS
Our years of hard work
speaks louder than anything
We will always be thankful to all those who believed us and extended an opportunity to showcase our potential. With great hard work and a perpetual zeal to learn, we have fostered ourselves. ConQsys is a result of sheer perseverance and determination

TESTIMONIALS
Clients Say

About ConQsys
With great hard work and a perpetual zeal to learn, we have fostered ourselves. And, our years of hard work speaks louder than anything. It took years to build what we are today and we are proud of it.

We are truly taken away by the quality these guys deliver. Completing the project within deadline, along with the supreme quality is what keeps me going with this team.

This team of developers are very dedicated and responsive. They work to ensure that projects run smoothly. They try to work as a team and get the job done. Very impressed.

ConQsys is very knowledgeable and gives 110% towards making a solution for my project. I would absolutely recommend hiring them.

Manoj and his ConQsys team are very knowledgeable and professional. This project was implemented in record time. ConQsys has been our partner for year and that it a testament to our partnership and trust.


We have been working with ConQsys and Manoj for the past 3 years and has been ongoing this is a testament for the strong relationship we have with this development partner, We have more projects in pipeline with this vendor.

Big data Hadoop and ElasticSeach are new technologies and ConQsys understood the requirements and technologies very well Setting up the Hadoop Cluster on our RackSpace server and configuration and implementation of Elastic-search.

I am truly taken away by the quality these guys deliver. Completing the project within deadline, along with the supreme quality is what keeps me going with this team.

ConQsys was recommended to me. I feel très bien that I took a chance on it. They assisted us in developing our product years back and are still acting as a support to us.
SUBSCRIBE
Get Subscribed Now
Subscribe with us to get technology update and new cases studies by our team.